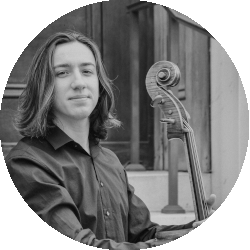 Jorge Giménez (Palma de Mallorca, 2001) began his cello studies at the age of four. From 2011 until 2019 he has been a student of Maria de Macedo in Madrid. He studied a bachelor's degree in Violoncello Performance at the Conservatorio Superior de Música de las Islas Baleares, Spain, with Prof. Emmanuel Bleuse. He graduated in June 2019 and received the Extraordinary End of Degree Award. From August 2019 to May 2021 he studied with Amit Peled at Peabody Institute of the Johns Hopkins University, Baltimore, MD. He graduated in May 2021 and received the James Winship Lewis Memorial Prize in Performance "for his outstanding accomplishments and contributions to the musical and educational life at Peabody." During his time at Peabody Institute, he was granted with the "Excellence in Music Leadership Full Scholarship" from The Johns Hopkins University.
Currently he is studying at the prestigious Queen Elisabeth Music Chapel as an artist in residence in the class of Gary Hoffman and Jeroen Reuling and is pursuing his second year of master's degree in Violoncello Performance at Koniklijk Conservatorium Brussel.
Some masterclasses and courses that he has participated in throughout his years of formation have been with professors such as Gary Hoffman, Jens Peter Maintz, Frans Helmerson, Marc Coppey, Lluis Claret, Amit Peled, Claudio Bohorquez, Troels Svanne, Adrian Brendel, Kyril Zlotnikov, Cecylia Barczyk, Emmanuel Feldman, Alban Gerhardt, Paul Badura-Skoda, Daniel Müller-Schott, Clive Brown, Guy Danel, Christoph Henkel, Amparo Lacruz, among others.
Throughout his career, he has been awarded in national and international competitions, being the last of them, Juventudes Musicales de Madrid Scholarship award (2019), 1st prize at Mount Vernon Virtuosi Cello Competition (2020), 1st place at KPIMC (2020), 2nd prize at the "Gustav Mahler Prize Cello Competiton 2021", 2nd prize at Park Na competition for violin and cello (2021).
Jorge has performed with orchestras as a soloist in Spain since 2015, such as the OSIB, and in the U.S., the MVV orchestra. He has performed the concertos of Haydn in C, Haydn in D and Dvorak as a soloist. In December of 2021 he did a tour of four concerts as a soloist where he performed the concerto in D by J.Haydn with the MVV orchestra, as part of the 1st prize of the competition he won in 2020.
He has taken part in many festivals such as the European Music Foundation Stringsfest Festival, "Enrique Granados" Festival, since 2017 at the Deia International Music Festival, the Festival for Young Talents in Cannes and the Schiermonnikoog Festival for Young Talents.
Renowned artists that he has collaborated with are Krzysztof Penderecki, Marin Alsop, Amit Peled, Asier Polo, Josep Colom, Chee-Yun Kim, Renaud Capuçon, Emanuel Pahud, Vasko Vasilev, Mikhail Zemtsov, Marc Coppey, Joan Enric Lluna, Gilles Apap, Jean-Pierre Lecaudey, Benjamin Schmid, Daniel Röhn, Peter Frankl, among others.
Jorge plays a cello (2022) by Alexandre Beaussart, an instrument on loan from Strings For Talent and the King Baudouin Foundation.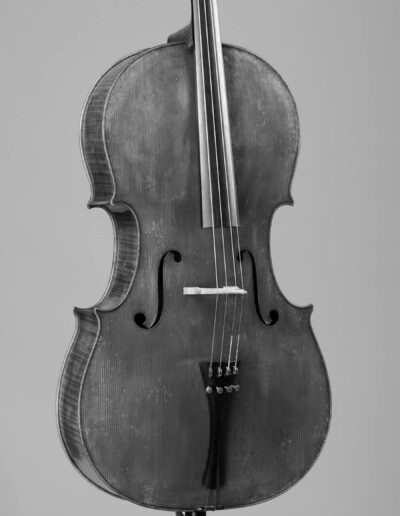 This cello was awarded the silver medal at the International Violin Making Competition of the Philharmonie de Paris. It is based on Antonio Stradivari's Davidov of 1712.
Alexandre Beaussart makes violins, violas and cellos by reproducing the works of 18th century Italian masters.
Passionate about music and history, Alexandre began his professional education with a degree in Art History and Archaeology at the University of Lille, before turning to the manual practice of the arts that are the object of his passions. In order to prepare for his entry into the International School of Violin Making in Mirecourt, he then began a Certificate of Professional Aptitude in cabinet making in Paris, at the La Bonne Graine Institute.
In 2011, Alexandre was accepted at the International School of Violin Making and began his training at the Lycée Jean-Baptiste Vuillaume and obtained his Diplôme des Métiers d'Arts in 2014.
His professional experience at the Philippe Mitéran workshop and the various training courses held throughout France have enabled him to consolidate his techniques, to perfect his listening skills and the finesse of his adjustments, but also to make his first personal instruments, while continuing to perfect his art.
In his work and through his interest in certain trends such as Italian violin making, Alexandre Beaussart seeks to develop his own ethical line by paying particular attention to period methods.
In 2019, he opened his workshop in Vincennes, alongside Audrey Goepp, with whom he can now fully link two passions: modern and antique instruments.
In January 2022, he won second place in the Philharmonie de Paris international violin making competition.
This competition, exclusive to the cello, placed particular emphasis on the sound of the instruments played by the musicians of the Paris orchestra, and judged behind the screen during the final stages of the competition by a jury of three violin makers and three musicians:
President of the Jury: Raphaël Pidoux.
Violin makers: Jean-Jacques Rampal, Isabelle Wilbaux, Serge Stam.
Musicians : Tatjana Udhe , Chu Yi-Bing, Astrig Siranossian.
Patrons of the competition: Sol Gabetta , Raphaël Merlin.
In July 2022, he won the 3rd prize in the Sámuel Nemessányi International Violin Making Competition in Budapest.
Sámuel Félix Nemessányi is considered the most talented and famous Hungarian violin maker, known for his high quality copies and often compared to masters such as the Voller brothers, J.B Vuillaume or Lupot.
Each participant had to copy as faithfully as possible one of his violins inspired by Antonio Stradivari, as a tribute to the Hungarian luthier.
Six violin makers then judged the copies around the violin.
President of the jury: Florian Léonhard.
Members of the jury: Simeone Morassi, Philippe Girardin, Roland Baumgartner, Michael Remenyi and Peter Benedek.