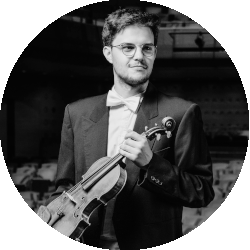 Filipe took his bachelor's degree at the National Academy of Advanced Orchestral Studies, in Lisbon, with Aníbal Lima. More recently, he finished his master's degree in Violin Performance at the Koninklijk Conservatorium Antwerpen. His mentors were Tatiana Samouil, Alexei Moshkov, Benjamin Braude and Alissa Margulis. Filipe is a member of the Antwerp Symphony Orchestra (Violin I Tutti) since January 2022.
Mihaela Martin, Emmanuel Tjeknavorian, Yossif Ivanov, Lisanne Soeterbroek, Jack Liebeck and Jean-Jacques Kantorow were some of the violinists he had the privilege to play for. He followed chamber music guidance with Paul Wakabayashi, Artur Pizarro and Guy Danel, having masterclasses with Isabel Charisius, Josef Kluson and Razvan Popovici.
Internationally laureate (USA, France, Italy, Poland and Portugal), Filipe was appointed Academist of the Antwerp Symphony Orchestra in 2019 and Reserve Academist of the Royal Concertgebouw Orchestra in 2020. He was also a fellow of Fundação Medeiros e Almeida and Fundação Calouste Gulbenkian. Filipe has performed in Portugal, Spain, Belgium, The Netherlands, Germany, Romania, Colombia and Brazil.
Filipe collaborates with the Brussels Philharmonic, Orquestra XXI and Orquestra Gulbenkian. He had the opportunity to work with conductors Krzysztof Urbanski, Elim Chan, Antony Hermus, Philippe Herreweghe, Pavel Baleff, Michael Zilm, Lorenzo Viotti, Jean-Marc Burfin, Ilan Volkov, a.o.
Filipe plays a French violin (2021) by Roland Belleguic, an instrument on loan from Strings For Talent and the King Baudouin Foundation.
Roland Belleguic was born in Quimper, Finistère, in 1990. Since his childhood, he has been animated by manual work, drawing and metamorphosis. The transformation of a mental image into matter. Motivated by woodwork, he turned to carpentry at the age of sixteen. At the same age, he discovered a real interest in jazz guitar. Naturally, these two passions led to his desire to become a luthier.
He discovered the world of stringed instruments by entering the National School of Violin Making in Mirecourt (France). After graduating with honours, he became a student and assistant to the violin maker Patrick Robin. After seven years spent with him, he decided to devote himself fully to making violins, violas and cellos and settled in a village on the banks of the Loire. At the same time, he studied the viola with François Hetsch.
His work is constantly evolving, nourished by the study of 16th and 17th century instruments, exchanges with musicians, violin makers and the invaluable research of the violin maker François Denis.
Awards
Honorable mention for a viola at the International Triennial Violin Making Competition in Cremona in 2018.
Three first prizes "coups de coeur" for a viola made in collaboration with Camille de Tredern at the Viola's viola making competition in Paris in 2022.
Gold medal for a violin at the Internationaler Geigenbauwettbewerb in Mittenwald in 2022.
Gold medal for a viola at the Internationaler Geigenbauwettbewerb in Mittenwald in 2022.
Silver medal for a viola at the Internationaler Geigenbauwettbewerb in Mittenwald in 2022.