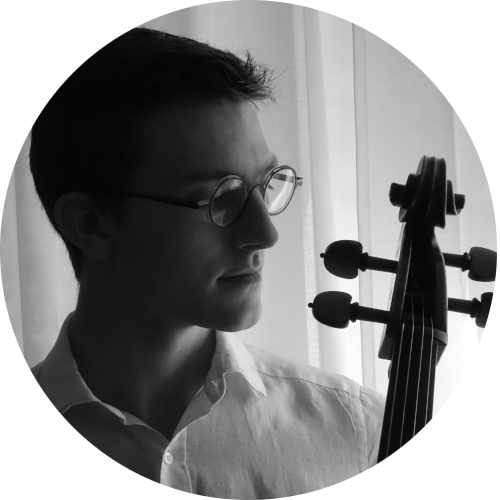 On 2 June 2021, Pierre Fontenelle received on loan a historic cello made by Nicolas François Vuillaume in 1860.
The acquisition of this instrument from a French violin maker was financed by the King Baudouin Foundation through the Léon Courtin-Marcelle Bouché Fund. Strings For Talent manages the loan of the instrument.
As part of its heritage and culture programme, the King Baudouin Foundation ensures that old instruments made in Belgium are preserved and put to useful use by making them available to young Belgian talent.
Pierre Fontenelle, cello-soloist of the Opéra Royal de Wallonie-Liège and Namurois of the Year 2020, took up the cello as an autodidact in his hometown of Seattle, U.S.A. After studying music traditionally at the Conservatoire de Luxembourg, he moved to Belgium, studying at the IMEP (Namur) earning his Master's with the greatest honours in 2020. He was subsequently appointed assistant-teacher of its cello-class from September 2020 onwards.
In October 2020, he received the 2nd Prize "Van Hecke" at the BCS International Cello Competition and won the First Prize and the Feldbusch Prize at the Concours International de Violoncelle Edmond Baert (2019). In August 2019, he had the pleasure of joining the Opéra Royal de Wallonie-Liège as cello-soloist, fulfilling his childhood dream of playing in a professional orchestra. He has participated in various masterclasses with reputed musicians and pedagogues such as Frans Helmerson, Gary Hoffman, Jérôme Pernoo… Pieter Wispelwey. He is currently pursuing further studies with Han Bin Yoon at the Mons Conservatory, Arts.
Pierre Fontenelle has performed in several prestigious venues and festivals in Belgium and abroad (Chapelle Reine Élisabeth, Philharmonie de Liège, Taipei National Concert Hall, Shanghaï Oriental Art Center, Festivals de Wallonie, le Royal Juillet Musical de Saint-Hubert…) and has been invited as a soloist by various orchestras (Orchestre Philharmonique Royal de Liège, Chapelle Musicale de Tournai, Musique Militaire Grand-Ducale, Musique Royale des Guides…). In 2018, he had the pleasure of being invited to participate in the traditional Christmas Concert of the Belgian Royal Family at the Royal Palace of Brussels, in partnership with the Monnaie Opera House and the Queen Elisabeth Music Chapel.
Committed to all the various aspects of being a musician, classical or otherwise, Pierre composes and explores popular and contemporary music with his cello-accordion Duo Kiasma (formerly Duo Made in Belgium) with accordionist Frin Wolter. Awarded First Prize in chamber music at the 2017 Accordé'Opale competition in France, Pierre regularly performs in this formation internationally. They recently undertook a Taiwanese tour in July 2019.
Nicolas François Vuillaume was born in Mirecourt (Vosges) in 1802, the fourth son of Claude-François Vuillaume, himself an instrument maker and descendant of a long line of instrument makers.
His brother, Jean-Baptiste Vuillaume, settled in Paris and is considered one of the most important stringed instrument makers in France, if not in Europe.
Nicolas François moved to Brussels to set up his own workshop, out of his brother's shadow, probably around 1830.
The two brothers continue to collaborate, and Nicolas François makes instruments for Paris, in addition to those bearing his name.
The latter gave him a prominent place in Brussels. In 1836, he was appointed luthier of the Royal Conservatory of Brussels.
He obtained a series of medals, including a first-class medal at the Universal Exhibition in Paris in 1855.
In 1873, he was named Knight of the Order of Leopold.
He is considered to have produced 340 instruments bearing his signature (this one is number 224).